Make a Donation
Please consider supporting our efforts by using the Donate Now button below.
Please read our disclaimer prior to donating.
To donate by check or money order, please complete the required donation form and mail along with payment to:
North Bergen Concerned Citizens Group
1215 Kennedy Blvd
North Bergen, NJ 07047
Township Meeting Agendas and Documents
Got a Tip?
North Bergen board of commissioners approves $84.4 million budget despite criticism
News -
Reprints
Thursday, April 03, 2014
---
by John Heinis
---
North Bergen board of commissioners approves $84.4 million budget despite criticism. North Bergen Concerned Citizens Group President Larry Wainstein disagreed with several items in the budget and wasn't shy about voicing his displeasure.
Anthony Ardis, who was close Sacco ally and donor, was found guilty on slew of charges. Nick still has not returned his donations
News -
Reprints
Friday, March 21, 2014
Former Passaic Valley Sewerage Commission officials found guilty
By PolitickerNJ Staff
A former administrator and a former shop foreman at the Passaic Valley Sewerage Commission were convicted at trial today of charges that they directed subordinate employees to complete repairs or improvements at private homes while on-duty for the PVSC, according to Acting Attorney General John J. Hoffman.
Anthony Ardis, 59, of Paterson, and Paul Bazela, 47, of Northvale, were found guilty today by a Passaic County jury following a two-week trial.
Ardis is a former PVSC Commissioner who later was employed as Clerk to the Board of Commissioners, Director of Management Services and Chief Ethics Liaison Officer for the PVSC. Bazela is the former foreman of the PVSC carpenter's shop.
Both men were found guilty of third-degree charges of conspiracy, official misconduct and pattern of official misconduct, and a fourth-degree charge of theft by unlawful taking or disposition. Third-degree crimes carry a sentence of three to five years in state prison and a fine of up to $15,000. Because Ardis and Bazela were convicted of conduct that occurred after April 14, 2007, when enhanced penalties for official misconduct took effect, each defendant faces a mandatory minimum sentence of two years in state prison without possibility of parole. The judge will enter orders requiring both men to forfeit their pensions and be permanently barred from public employment or office in New Jersey.
International Woman's Day
Wednesday, March 19, 2014
NBCC President Larry Wainstein and its' members celebrated International Woman's Day with over 150 participants on March 8th, 2014. IWD recognizes the struggles women have endured for over 100 years domestically and abroad. This year's recipients of the NBCC IWD awards were various women from the community that have dedicated their time helping others and creating positive role models for our children. Larry Wainstein stated, "It was a honor to recognize the achievements of these ladies who have given countless hours of their time to their community. Our organization was proud to honor and celebrate the goodwill and positive influence these individuals have brought to all. "The NBCC continues to honor those who continuously strive to better our community in North Bergen and develop positive change in our society as a whole.
North Bergen Voice NEWSPAPER ( 3rd Edition)
News -
General
Sunday, February 16, 2014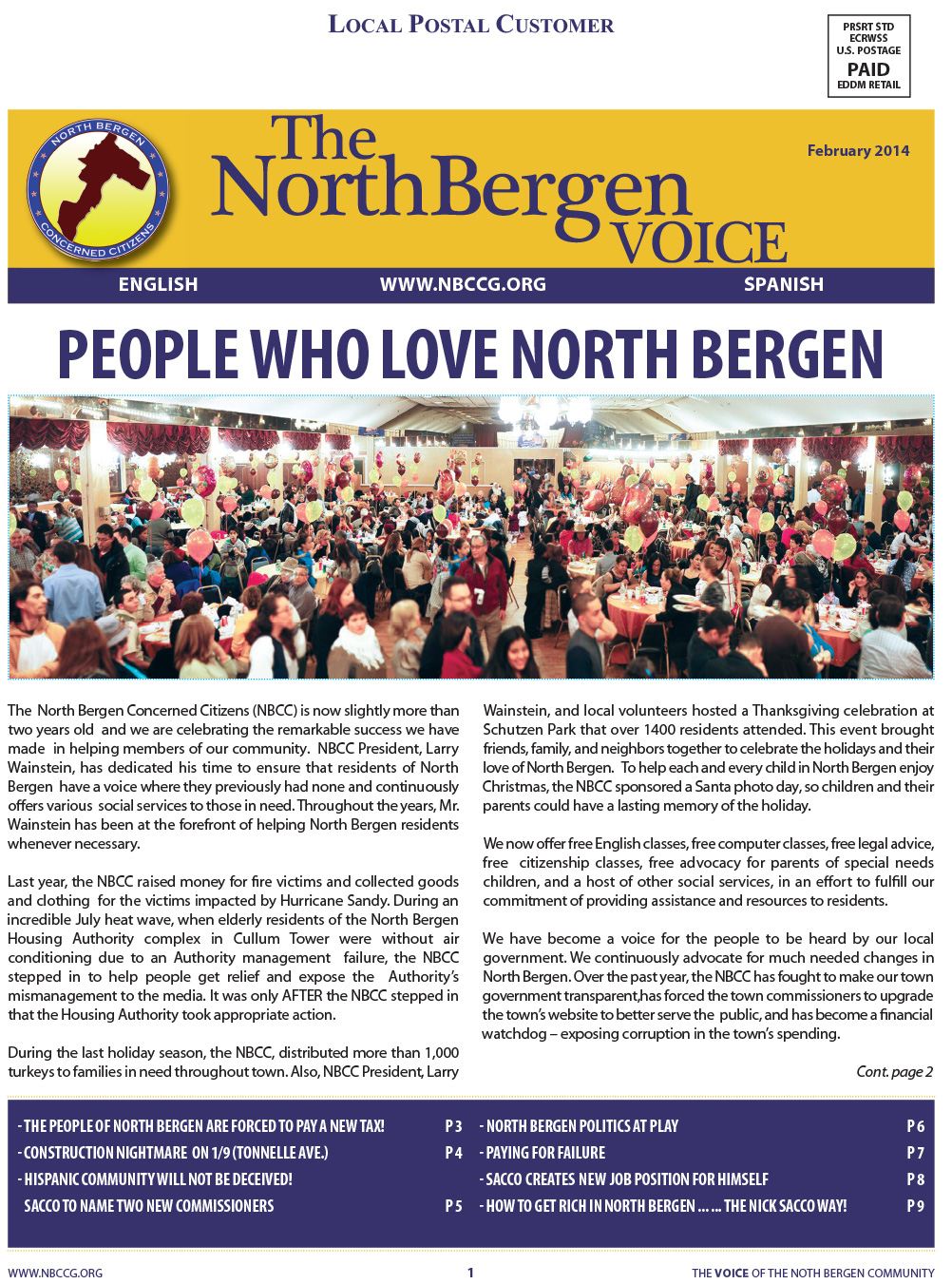 Larry Wainstein & NBCCG sponsors Free Indoor Soccer
<<

Start

<

Prev

1

2 3 4 5 6 7 8 9 10 Next > End >>


Page 1 of 30